TESTIMONIALS
Please click on the link below to view more testimonials
• Asthma
• Neck & Back Pain & Injuries
• Chemotherapy Drug Allergies
• Chronic Fatigue Syndrome
• Eczema & Rashes
• Endocrine Dysfunction
• Environmental &
Seasonal Allergies
• Infertility, Miscarriages
• Food Allergies
• Food Poisoning
• Gastrointestinal Disorders
• Headaches, Migraines
• Hormonal Imbalances
• Insect Bites
• Insomnia
• Low Immunity
• Medication & Drug Allergies
• Pet Allergies
• Pet & Animal Treatments
• Respiratory Problems
• Seizures & Epilepsy
• Stress




Testimonials


Our patients have been kind in sharing their experiences with us. Below you will find testimonies from our past and present patients.



ASTHMA



Dear Sophya:

I am writing to tell you about Skylar. When he was 7 yrs old when I brought him to see you. Skylar's medical history involved weeping eczema, hives, asthma, bronchial problems, frequent colds, low immunity, low energy, sinus problems, and food allergies.

It has been one year now since his treatments began (30 sessions), and a whole new boy. His skin is clear and he hardly gets sick, doesn't need to use his puffers, lots of energy, a happier boy and he gets to eat so many different foods. I feel that your treatments and kindness has given Skylar a new life.

I am very thankful for your treatments and it is worth the 5 hour drive to come and see you.

Thanks again, Sophya!

Connie
.................................................

When my daughter was born she was a healthy and happy baby. When she started eating solid foods she would have reactions to foods such as dairy and citrus, but for the most part she did really well. In 2009, she turned 5 and her health took a turn for the worse. We thought at the time that it was the flu and then that it was a cold. This continued for the next 3 years. Her appetite decreased greatly, she stopped growing, stopped gaining weight, was often tired, her skin was pale and she had dark circles under her eyes. Also, she could not breathe very well and had a runny nose almost daily with green phlegm producing from her nose and chest. Being little she had a really hard time getting rid of the phlegm and would often feel embarrassed by her cough and try and hide it. Arielle at this time had a puffer as we were trying to keep her airway open and reduce the wheezing. Unfortunately, she had now developed asthma.

We went to BC Children's Hospital to see a specialist, who was lovely and very skilled. He discounted that Arielle had allergies and insisted she had had a bad winter one year and now had a re-occurring chest infection which he proceeded to treat with antibiotics. For other children I am sure is wonderful but this was not the answer for us. The day after taking her final dose of antibiotics the cough and congestion were back. My husband and I were devastated; she was still as sick as when we began the process. It was heartbreaking. We were through with main stream doctors and determined we were not going to lose our girl.

We had been to see Sophya for a few treatments prior to going to Children's hospital but my health plan had run out so we thought we would give Children's hospital a try. Were I to do this over again, I would have found a way to continue with Sophya and the NAET treatments.

In early 2012 we went back to Sophya and have not looked back since. The only internal medicine Sophya recommended were Chinese herbal tinctures and they worked amazingly to reduce her chest inflammation and get rid of the phlegm. It was such a relief to know she could now sleep through the night with ease. She got her appetite back, started to gain weight and to grow. With each NAET treatment Arielle got better and better and today we have healthy, happy thriving girl.

I cannot fully express in words our gratitude for having Arielle healthy and happy. Sophya is an amazing practitioner that truly cares about the people she treats. She loves what she does and shares her love always. She empowers everyone she meets and lets them know they have the power also within themselves to heal. My daughter knows she is strong now 

Thank you Sophya!
With deepest gratitude, immense respect and love,
Tracy H.
.................................................
I've always considered myself as a relatively healthy person, except for allergy to cats and other animals. In case of contact, it was difficult for me to breathe, I sneezed and had itchy eyes. Sometimes, I used puffers and other medications. But it was no big deal for me until I had a choice to avoid contacts with animals.
My recent arrival to Canada has changed all my life dramatically. I knew I was going to live in the house where there was a pet, I was so naive to think that my pills would be enough to take over my allergy. I developed a very strong asthma just in 15 minutes after I came into the house. sneezing, itchy eyes weren't even taken into consideration. I felt I was trapped with no way out. We had no other accommodation, my peels didn't work and had bad side effects. I really felt that cat was going to kill me. We found Sophya just the next day after our arrival by the recommendation from a friend. Now I understand how lucky I was to find the salvation so soon!
However, the first month in Canada was a real nightmare for me. Every night began with shortage of breath and unstoppable coughing which was so severe and painful that I felt I was about to spit out my lungs. The next morning I felt exhausted and beaten. It all made me feel desperate. I tried to stay away from home as long as possible, but the night came and my tortures began over and over again.

Sophya treated me all that time step by step making me stronger. And then a miracle happened! I finally stopped being allergic to our cat! It happened as if I was turned into another mode, no more asthma, coughing, running nose and itchy eyes! I would never believe if somebody told me it was possible to get rid of such a severe allergy.
I'm so grateful to Sophya! She's changed my and my family's life! Sophya has also helped my husband who used to suffer from digestion system disorder for years! My 7 year-old daughter is being treated for allergy to chocolate and other sweets and foods, and she's making progress as well. Besides, her behavior is getting better too, she doesn't resist studying as she used to, which makes me happy!
Thank you, Sophya! You are the best doctor for us!!!

Yuliya, Michael and Kseniya Chuyko



____________________________________________________

BACK PAIN, NECK PAIN, & INJURIES



In 2011, I injured my ankle while playing sports (basketball) quite severely and was hardly able to walk, which made my life very difficult as my wife and I had just recently given birth to our first baby girl and I could not walk around with her in my arms as the pain was simply unbearable. I went to the hospital and was given an x-ray and MRI which revealed an old injury that had been re-injured. The Doctor informed me that there was nothing that could be done and to simply rest my ankle for several months and to walk with crutches.

Needless to say I was not very happy with the verdict. I decided to take matters in to my own hands and seeked chiropractic and acupuncture treatments which I believed would provide me with a better chance of healing faster. Unfortunately after 8 weeks of these treatments and approximately $600 I was left in pain and frustration.

My wife and I had been bringing our then 3 month old daughter to see Sophya for digestion issues when one day during a visit, Sophya noticed that I was limping and asked if I would be interested in treatment for myself. As skeptical as I was, I felt I had nothing to lose.

Sophya prescribed a homeopathic energy remedy as well as energeticly balanced my body. I still remember thinking, how could this possibly take my pain away. After several visits with Sophya my pain was COMPLETELY gone! I was able to walk around with my little girl in my arms and most shockingly I was once again able to play sports, even hockey!!!

Today, over a year later, I am pain free and play sports on a weekly basis. I am forever grateful to Sophya and her amazing work and would highly recommend her to anyone who suffers with any sport injury. Sophya, your work is incredible!

Sincerely, Sherman Wong.

.................................................

I first came to see Sophya on the advice of a friend, hoping she could help me with a serious back injury. I had herniated two discs in my back and had been off work for four months. After trying a number of traditional and alternative therapies with only minor short-term relief, I became extremely frustrated at my slow recovery, and was starting to worry that I wouldn't be able to return my current job at all.

Sophya began my treatments of acupuncture and herbal remedies to support my body structure, and I felt immediate relief. Within two weeks, and after only a few treatments, the healing was so significant that I was able to start back to work—and I haven't looked back since.

If my experience was nothing more than that, it would be a powerful testimonial, but successfully treating my back was just the beginning. I then started working with Sophya for allergy elimination, mostly because I was anaemic and wanted to be treated for an iron allergy. In the course of my treatments for basic allergies, I also encountered what Sophya referred to as emotional allergies the real cause of my back pain. I had never heard of emotional allergies, and was amazed to find that following these treatments, many of my emotional as well as physical challenges were dropping away, some of which I'd been struggling with for decades. As an added bonus, my improved energy flow is causing my body weight to stabilize, I've lost about 20 lbs in the past six months!

I don't claim to understand the mechanism of Sophya's treatments—fortunately, I don't have to understand it to be able to enjoy the results. I do know, though, that every treatment Sophya administers is given with masterful skill and overwhelming love. And I also know that as my physical, emotional and spiritual health continues to improve with each treatment, the circumstances of my life continue to shift to a more positive, satisfying experience every way. And for that, I have no words to adequately say how very grateful I am.

With so very much love for you Sophya,

Cathy

.................................................

Dear Sophya,

This is a long overdue letter to thank you for getting me back to good health. For the second time in 4 years you have performed your magic on my back and helped me resume my normal activities that range from simply getting around without pain to playing hockey 2 to 3 times per week.

I have been pain-free since your last treatment more than a month ago and can't believe the difference in the way I feel. I encourage anyone who is in pain to consult with you and to experience the difference a few treatments can make in their lives. You can continue to count on me to refer my friends and colleagues to see you whenever they're in need of care.

Thank you once again for your compassion and professionalism.

Sincerely,

Dave

.................................................

When I first went to see Sophya about two years ago, it was for my neck. I was hit by a car while crossing the street five years ago, and my neck has never been the same since. My head was off centre by 5 degrees at the junction of the base of my skull and the atlas vertebrae, resulting in a loss of blood flow to the brain. I felt less than swift, and every time I moved my neck there would be a grating as if my neck had sandpaper in it.

Sophya did some acupuncture, which I had never tried before because I have always been afraid of needles. The acupuncture left me feeling more clear-headed, and she also gave me some phytobiophysics, a medicine made in the U.K from plant essences. I can't say that I fully understand how it works, but it does work. I haven't been back to the chiropractor since taking it regularly, and it is no longer uncomfortable to move my head. I feel relatively normal and I am free to live a normal life, hold a conversation, and maintain concentration.

Since treating my neck, I have been doing NAET treatments with Sophya. Basically I needed to overcome various basic food allergies in order to build up my immune system enough to do the treatment for mononucleosis, which I had two summers ago. Mononucleosis was a terrible illness that I am fortunate to have survived, and I don't want to have a relapse later on in life. Since doing the NAET treatments, I feel stronger and more energetic. Certain foods no longer bother me, and I feel more able to withstand bacteria and viruses that we all encounter in our daily lives. Now when someone sneezes next to me, I don't think about covering up or holding my breath. I think, "I'm strong, I won't get sick. I don't need to.

You're probably reading this because you are as disillusioned with the western medical system as I am.

I haven't had a good family doctor since I was 10 years old, and since then all I have come across is prescription drug pushers and second-rate doctors that work in walk-in clinics. Sophya is neither of these. She takes the time to get an understanding of what you are going through and treats the root of the problem, not the symptom. If there is anything wrong with either myself or my fiance she is the first person we go to and we have even been there at 11:00 pm on a weekday. I don't expect to find the same welcome anywhere else.

You're in good hands!

Cris

.................................................

The first time I went to see Dr. Sophya Itskovich was when I had got a strong pain in my neck; literally, I couldn't move. I feared even touch it. Sophya did wonders. Within a week I was able to go back to my every-day life without any pains in my neck. Second time Sophya brought me back to life was when I had tonsillitis; it was so bad I could barely breath, my neck was about the size of my head, I run temperature. After first visit I was able to swallow, the temperature fell down and after next two visits I went back to normal. I'm really grateful to Sophya for helping me, she's the best doctor I've ever came across.

Alina.

.................................................

Dear Sophya,

I first time came to see you because my girlfriend recommended you, for my chronic shoulder pain (Rotatory Cuff). To my surprise, in the first visit with no needles in my shoulder I had a major improvement. I was able to move without agony. I have now since been through 6 treatments and have no problems. This is amazing as this injury followed me for a few years. I would & do recommend you to any of my snowboarding & mountain biking buddies.

Your Rock, Michael.

.................................................

This is my testimonial for my Doctor and healer Sophya. I am a 37 year male. Sophya has been the one and only medical practitioner I have seen in the last 2 and a half years. She is the only Doctor that can solve my problems.

Sophya's care for me, as a patient, has been very comforting and above and beyond any Medical Doctor could provide.

Within the last 2 and a half years I have suffered from various sports injuries, work related injuries, digestive problems as well as emotional problems.

No matter what problem I may be suffering from, I know that Sophya is only a phone call away from making me better.

I suffered from a rotator cuff injury, caused at work, for seven years. The area would become so knotted up whenever it was aggravated. The muscle spasm would grow from the rotator uff to my back and shoulder. The pain in my shoulder would last for weeks. Sophya worked on my shoulder with acupuncture and within two treatments I had no pain. The shoulder has been problem free for the last 2 and a half years.

I also suffered from a tender Achilles heel. It was so bad that I thought I would tear the tendon during physical activity. Sophya also fixed this problem in two treatments. Five years of pain fixed in two sessions.

On two occasions I fell ill to food poisoning and she helped to make me feel better after one visit.

Sophya has been able to systematically rid my body of allergies. These are allergies that I knew I had as well as allergies that I had no idea had or attained over my years of life.

Through her intuition she helped to solve a digestive problem. She came to the conclusion that my problem was caused by an emotional issue. Stress was making me sick and I had no idea. She treated me for this particular stress matter and I felt much better.

She has done so much more, for me and my family, than any doctor can ever hope to achieve.

Her intuitiveness and genuine care makes her an unbelievable Doctor and healer.

She will be the one and only doctor for me and my family for as long as I know her, and I hope that will be a long time.

Love Hank


____________________________________________________

CHEMOTHERAPY DRUG ALLERGIES



My original complaints were vague but included poor concentration, weak eyes, an inability to digest food like bread and ice cream or mix food like proteins with starch. I suffered (as did my family) with irritability, poor sleeping patterns, poor waking patterns - a feeling of overall unwellness, fatigue and depression. Many of my symptoms may be attributed to "Chemo Brain" a direct result of having survived cancer 10 years ago. There seems to be no help available in standard western medical practice for any of these symptoms except counselling which at best, tried to get me to accept the "new me" as normal.

As I started treatments with Sophya and began to heal, I immediately enjoyed a highly improved circadian rhythm; my ability to concentrate, read, follow plotlines on shows and things like that improved within the first 6 treatments. I also noticed that I didn't loose myself or my things as often - like where I parked or directions to places I had driven before. When leaving the house, I was much more collected, remembering my cell, and keys, and things that often frustrated me before treatment - things that left me cranky and irritated before even starting my day! I had "reactions" to most of the treatments that passed within a few hours each time, including indigestion, sleepiness, belching up the test of chemo medicine!

Improvements I hadn't expected but got anyways included muscle healing and pain relief; my sense of humour and quirky (puns) returned and lately, my weight is dropping - probably a direct result of the much higher energy levels I now experience.

I recently started a new job and "suddenly" the computer work isn't as irritating as it used to be - I can spend hours doing computer tasks without the feeling of anxiety and stress that it used to produce and my eyes don't get tired or anything! O and the summer skin rashes I have had since I was a baby have completely disappeared even though I rarely wear sunscreen and I garden a lot!

These changes are, in my opinion, quite miraculous as it has been less that 4 month since I started (and completed) thrice a week treatments. My best testament to Sophya's work - my sons are also in her care.

Thank you for restoring my vitality, clarity and overall health - it is such a relief and a pleasure to be your patient.

With love and gratitude,

R.M.


____________________________________________________

CHRONIC FATIGUE SYNDROME & LOW ENERGY



My son has always struggled with food allergies and is a very picky eater so it became impossible for him to avoid foods that caused him trouble. He didn't eat very well, was tired all the time, couldn't focus in school and was very moody. It seemed like everything was a battle with him. He started to isolate himself more and didn't even want to go out with friends.

Last spring I took my 14 year old son to see Sophya Itskovich (NAET Practitioner) as a last effort to help him with his varied symptoms. Sophya immediately had a connection with Brady and had an ability to make him feel better about himself during the sessions. I didn't notice many changes right away. Near the end of having the basics cleared I noticed he was a lot calmer at home. He was still a bit moody but it was more typical teenager mood swings.

After basics were completed and he began getting cleared for other items I noticed even more changes. He started trying new things to eat and he now eats better. His ability to concentrate at school improved and his relationships with his teachers grew as well. It has now been 8 months (29 sessions) since we have been seeing Sophya. We are approaching the end of his treatments and he is in many ways a very different person than he was when we started. The biggest change I have seen in him is his increasing self-esteem. He isn't isolating himself any longer and is actually enjoying some physical activity. This semester in school he is doing really well and is taking pride in his work. I am grateful to my friend for recommending Sophya to me as she has helped Brady in so many different ways.

Darcee C.

.................................................

I have been coming to Sophya for about 7 months now with my 2 year old son. It has really helped both of us a great deal. I have a heart condition and consequently feel tired most of the time. Before I met Sophya, I had been told I would never improve more than what I was and had lost all hope. I thought why not try holistic medicine; what do I have to lose?

About a month of seeing Sophya, my energy was much better and I feeling really optimistic. About four months after seeing Sophya, I ran up a flight of stairs for the first time in about 4 years! I did it unconsciously, but when I reached the top and realized what I had done I cried with joy. I never thought I would be able to do that again even though it is such a simple thing. I also used to retain so much water that I would have to take water pills about 3-6 times a week. If I retain too much water it can lead to me going into heart failure, so this is a really big deal for me. Well after about 7 months of going to see Sophya I only take about 1 a week and sometimes I take none a week. That makes me really happy.

My son suffered from eczema all over his little hands and was pretty much an insomniac for the first two years of his life. After Sophya told us what foods he was sensitive to, eliminating them from his diet and with her working with him, his little hands are finally smooth like they should be. They used to always be all bloody and hurt him so much, so Sophya has really helped my son. He also only wakes up once a night now compared to about 7 times a night, so we are all much happier.

In conclusion, I am very happy to have been and still be a patient at Sophya's clinic. She has helped my son and I a great deal, and I can honestly say I feel like a different person than I did 7 months ago.

Thanks Sophya.

Sincerely: Vieira

.................................................

Before NAET treatment, I felt sick all the time, sleepy, and couldn't think properly. I would have trouble waking up, focusing in school, and doing any outdoor activities. Not only did I look unhealthy, I actually was. I wouldn't eat fruit, vegetables, meats, only grains and fast food.

After treatment, I could think very clearly, wake up easily, and I actually tried foods before I wouldn't consider eating. School is much easier now, and I'm in better health.

What I like about Sophya is her willingness to help, and how easy she makes it to get better

Brady C.

.................................................

My original complaints were vague but included poor concentration, weak eyes, an inability to digest food like bread and ice cream or mix food like proteins with starch. I suffered (as did my family) with irritability, poor sleeping patterns, poor waking patterns - a feeling of overall unwellness, fatigue and depression. Many of my symptoms may be attributed to "Chemo Brain" a direct result of having survived cancer 10 years ago. There seems to be no help available in standard western medical practice for any of these symptoms except counselling which at best, tried to get me to accept the "new me" as normal.

As I started treatments with Sophya and began to heal, I immediately enjoyed a highly improved circadian rhythm; my ability to concentrate, read, follow plotlines on shows and things like that improved within the first 6 treatments. I also noticed that I didn't loose myself or my things as often - like where I parked or directions to places I had driven before. When leaving the house, I was much more collected, remembering my cell, and keys, and things that often frustrated me before treatment - things that left me cranky and irritated before even starting my day! I had "reactions" to most of the treatments that passed within a few hours each time, including indigestion, sleepiness, belching up the test of chemo medicine!

Improvements I hadn't expected but got anyways included muscle healing and pain relief; my sense of humour and quirky (puns) returned and lately, my weight is dropping - probably a direct result of the much higher energy levels I now experience.

I recently started a new job and "suddenly" the computer work isn't as irritating as it used to be - I can spend hours doing computer tasks without the feeling of anxiety and stress that it used to produce and my eyes don't get tired or anything! O and the summer skin rashes I have had since I was a baby have completely disappeared even though I rarely wear sunscreen and I garden a lot! These changes are, in my opinion, quite miraculous as it has been less that 4 month since I started (and completed) thrice a week treatments. My best testament to Sophya's work - my sons are also in her care.

Thank you for restoring my vitality, clarity and overall health - it is such a relief and a pleasure to be your patient.

With love and gratitude,

R.M.

.................................................

Hello Sophya,

From the bottom of my heart Thank You so very much. I am feeling great. Really fantastic! I am eating well with a good appetite, thinking clearly, and lots of energy.

I will keep you posted.

All My Best,

Max

.................................................

"To my great surprise and much luck, I won a gift certificate for a Chinese medicine consultation while attending an e-Women's network event this Summer.

Initially I thought I didn't need to visit a Chinese doctor because I didn't have a chronic illness or pain, but I always could use more energy. So with an open mind, I booked a consultation with Sophya.

My first consultation was very impressive! Sophya's warm smile, caring personality combined with amazing knowledge and skill was an unexpected delight! I left her office feeling fantastic with a definite boost of energy and a feeling of contentment.

Today I regularly visit Sophya and I recommend Sophya to almost all my friends and family, if they have an open mind and are willing to try something different."

Lorien


____________________________________________________

ECZEMA & RASHES



I have been coming to Sophya for about 7 months now with my 2 year old son. It has really helped both of us a great deal. I have a heart condition and consequently feel tired most of the time. Before I met Sophya, I had been told I would never improve more than what I was and had lost all hope. I thought why not try holistic medicine; what do I have to lose?

About a month of seeing Sophya, my energy was much better and I feeling really optimistic. About four months after seeing Sophya, I ran up a flight of stairs for the first time in about 4 years! I did it unconsciously, but when I reached the top and realized what I had done I cried with joy. I never thought I would be able to do that again even though it is such a simple thing. I also used to retain so much water that I would have to take water pills about 3-6 times a week. If I retain too much water it can lead to me going into heart failure, so this is a really big deal for me. Well after about 7 months of going to see Sophya I only take about 1 a week and sometimes I take none a week. That makes me really happy.

My son suffered from eczema all over his little hands and was pretty much an insomniac for the first two years of his life. After Sophya told us what foods he was sensitive to, eliminating them from his diet and with her working with him, his little hands are finally smooth like they should be. They used to always be all bloody and hurt him so much, so Sophya has really helped my son. He also only wakes up once a night now compared to about 7 times a night, so we are all much happier.

In conclusion, I am very happy to have been and still be a patient at Sophya's clinic. She has helped my son and I a great deal, and I can honestly say I feel like a different person than I did 7 months ago.

Thanks Sophya.

Sincerely: Vieira

.................................................

Dearest Sophya,

When I was referred to you, I felt like I was dying with no hope. It was a struggle to get through each day, I was so sick. You saved my life.


Now I can eat everything!!! We can eat out at restaurants and I can enjoy life again with my family.

You have helped Chloe, my daughter, too. She had rashes since she was born. Now at 3 years old she can eat everything without a reaction, and she doesn't catch illnesses like she used to!

Sophya, you have been so strong for myself and my family, and have gone above and beyond for us. I know that I can call you anytime if we need help, be it a cold to a NAET treatment. Your guidance, patience, non-judgemental attitude, words of wisdom, and most of all love has meant more to us than you will ever know. You will always be our family doctor, for as long as you will have us. We happily refer you to anyone that may need your help, and the help of NAET.

Bless you Sophya. Lots of Love,

Carolyn, Hank, and Chloe

.................................................

Hi Sophya,

I've been procrastinating about sending you this testimonial because I always think of these things as coming at the end of treatment and I feel that we still have so much that we would like to do with you. We really have come a long way from the first day we met though. I don't even really like to think about what life was like back when we were still searching for answers.

Aiton, of course is almost completely better with his eczema. His quality of life has been so greatly improved since the NAET treatments it is like he is a different baby. At his worst there were so many oozing scabs that I didn't feel comfortable taking him out in public. I can't imagine what life would be like if we still had to swaddle him all the time to keep him from scratching.

He is such a happy baby now; free to poke around and explore things just like a baby should! It is wonderful to see the change. I really don't know how we would have made it without the treatments. I didn't expect that Aiton's eczema would bring so much healing into my life. Sophya, without your help there is no doubt in my mind that I would not be breastfeeding right now and that is such a great thing.

Feeding Aiton is one of the most amazing things I have experienced in my life. Thank you so much for your help with the blocked milk duct and the low milk supply. I couldn't have done it without you. I know that I would have given up a long time ago.

It is a wonderful thing that you insisted on treating us together. After suffering most of my life with allergies it is a miracle to me to be able to start eating things that I've been avoiding for years. I really never thought it was possible. Of course I am not sure how healthy it is really since I can't seem to stop eating cookies now that wheat is not a problem! I have softer skin and more energy that ever. Ahhhh, no wonder I want to come back. We're looking forward to seeing you again soon.

Thank you so much for everything.

Love, Heather xo

.................................................

When I came to see Sophia for the first time, I didn't think I was going to meet someone who would have the ability to transform my health and my life, while also making me feel loved and cared for. Have you ever received this from a doctor? Sophia is not just the person God is using to help me heal, but also a true friend. She has the heart of a mother and embraces the people she treats with so much affection, that she makes you feel at home and safe.

I'm grateful to Carolyn, who encouraged me to visit Sophie one day. Her testimony of food allergies spoke to me directly. I couldn't believe it would be possible to eat the foods I hadn't eaten for years! When Carolyn told me she could eat everything now, that was it, I had to try it!

During my first visit with Sophia she told me that once I finished my basic treatments I would be able to eat eggs (and milk, and nuts, and wheat, and so on and so forth). That was all the encouragement I needed to set myself on a quest. I had to finish the basic treatments before Christmas! I wanted to be able to eat everything on the plate without having to say "no, I'm sorry, I can't eat that either". I was tired of feeling sick, and tired of being tired and low energy. My skin looked so bad, I was extremely underweight and although I was hungry, food was a fear rather than a joy.

At that time my parents were visiting from Mexico, so both my mom and I started our treatments together. My mom was in a hurry to claim her health back too! She did 2 treatments a day, for 2 consecutive weeks. She went home with a renewed life and a new energetic feeling.

Although I wasn't as fast as my mom, I literally ran through the first 15 treatments too. When Sophia said "go home and have an egg" I just wish I had had a recorder with me. I think I heard Angels sing! I drove home as fast as I could and although I had imagined that moment as being one surrounded by my family and lots of celebration, that day it was just me and, of course, my egg. It couldn't have been more perfect!

I grabbed the pan and cooked my first egg. It was actually "romantic".I looked at my egg...I cooked it with so much love. I ate it slowly, as if there was no tomorrow. Two hours later...no itchiness. No rash....24 hrs later. Still nothing. That day I was in heaven. 48 hours later...nothing!!! 4 months later...and lots and lots of more eggs, and everything is great!

But it wasn't only the eggs. For years I craved for a sandwich, and when I was finally able to eat it, I savoured it with every bit of my heart. Before that, my allergies were so bad that my face, neck and chest were covered by rashes for years.

The technique that Sophie uses is certainly "non-conventional", though acupuncture for example, is perfectly conventional in China, so we have to define non-conventional as something we are simply not familiar with. This gentle and side effect free technique has certainly become conventional in my life now. I cannot see any other way to treat just about any condition better than with NEAT.

But it's not just about NAET being so successful, it is about Sophia. I visited so many doctors before, and I never received what I do here. Sophia has been incredibly understanding, patient and caring to me. Going to Path to Wellness clinic always leaves me feeling stronger and refreshed. She makes you feel so good that I can guarantee you this is a type of treatment that you have never experienced before. The type of genuine love and care that you will receive while being treated by Sophie, will blow you off your feet.

Other than the food allergies (and skipping restaurants and friend's houses too), Sophie is also treating me for infertility and an auto-immune thyroid condition (Hashimoto's). I have to say that right from the beginning I noticed radical changes in both conditions.

I was also born with an Mitral Valve Prolapse and that is one of the reasons why my energy level one so bad. The first one was my level of energy. Can you believe that just sweeping the house would leave me exhausted to a point where I actually got dark circles under my eyes and was practically out of circulation until I could rest for a while or even take a nap? With my work routine, taking a nap was completely impossible, and so the only way I could actually go on with my day was by splitting it into parts. This meant taking breaks in between and not having more than 1 appointment per day.

After just 5 treatments with Sophia, I was able to sleep well throughout the night, wake up refreshed and go about my day non-stop without feeling sick or weak. Oh, exercising in the morning used to be an absolute "no" to me. Just a bit of exercise and I would be tired the rest of the day (tired close to fainting). Now, I can go for a long walk, go shopping, have a few appointments per day, clean the house, work at least 8 hours and still feel good. It really has been a miracle in my life.

I'm still working on different things and allergens, but just being able to eat good and healthy food again makes me want to dance!

Sophie, what can I tell you. You are like my Canadian mother. I'm beyond speechless by everything you've done for me. On my last treatment I happened to mention that I was hungry. It was just a comment, but you flew to your office and brought me bread, avocado, yogurt with cottage cheese, nuts and even an orange! You made my mother feel so great!, you have treated my little "Angel" and she can now run using all 4 legs, you have fed me with love and words of encouragement and affection. You motivate me, you support me, and you are beyond devoted to my health. I really am thankful to God for your life. I bless you, and I bless your practice and your family. May God grant you everything your heart desires. A million thanks from Jeff, Angel and me.

Much love, Karina
____________________________________________________

ENDOCRINE DYSFUNCTION

Dear Sophya,
I am grateful to have found you! Since I wasted time and money on other practitioners – finding you was a blessing! You cured me of my medically diagnosed Adrenal dysfunction (which I had to take raw adrenal support supplements for the last 3 years). I no longer take this and I have so much energy now! My digestion issues have also improved and we'll continue on working on my Hypothyroidism so I no longer have to take that medication.
Thank you for all your NAET work. As always your dedication and caring of my health is appreciatively greatly. You always go above and beyond and check up on me even on distance, even when you are on vacation! Wow, now that's someone who really cares not about money but about helping people. This is why I love you.
S. M.


____________________________________________________

ENVIRONMENTAL ALLERGY & SEASONAL ALLERGIES



I've been allergic to dust as I can remember. Over the last few years, it's been getting worse. Since my furnace started in September I've had days when I sneezed every 5-10 minutes, a never-ending runny nose, avoided the already-covered furnace vents in the room I worked in, avoided getting my nose near anything dusty like ledges, blinds, and books, dreaded vacuuming, felt groggy /dizzy/ tired, and often woke up from a plugged nose at night.

Two days ago, Sophya did a second NAET dust treatment and today I tested out the result. I sniffed the dusty floor under the armchair, I stuck my nose 1cm over the dusty fireplace mantle, in the vent and ........ VIOLA – no reaction, nothing at all........ no itchy nose, no stuffed nose, not even a sneeze! Later I rubbed my finger in the dust and stuck it right on my nose. It smelled like dust – that's it ...... just dust. Although I still have other allergies to treat; getting rid of that dust allergies is very encouraging and exciting.

L. H.

.................................................

Sophya has changed my life and my son's life dramatically, and continues to change my husband's life too! Every moment of gratitude in my life holds Sophya in it, as she has given us a quality of life that we had not even known possible before.

I had been suffering with allergies my whole life (which turned debilitating in 2008), and when my son was born, he was ridden with allergies even more severe it seemed. I desperately tried every type of natural doctor and healer along with homeopathic, herbs, and supplements to help him throughout his daily life. Luckily, my background in alternative medicine allowed me to keep us on a clean, healthy diet and notice any symptoms early and treat them as best I could. As my immune system weakened over the past few years despite my diet and supplementation, I was susceptible to every illness that seemed to cross my path...and being a preschool teacher, this was a challenge!

My son appeared to get somewhat better with a number of the doctors we've met along the way, so a handful of his major symptoms were dissipating (ie. severe teeth grinding, nose bleeds, coughing nightly, etc.). Unfortunately, we still had many obstacles on his path.

I cried the first and second time I sat in Sophya's office as I watched her speak with my son. I felt like I had finally come to the end of my many years of searching endlessly for someone to heal him...and myself. Of course, being a mother, I was much less worried about myself than him. Sophya had me realize that we both needed to be treated together, and I'm forever grateful she did. I am now in my 40's and my immunity and body is getting stronger and healthier than it has ever been.

My son gets to grow up living the life he wants, not debilitated with a lifetime of allergies and a non-functional immune system. Our family appreciates Sophya more than words can express.

Much love,

Lauren, Rick, and Kyro

.................................................

Ever been stuck in a basement for 7 weeks of summer, or worse? Unfortunately I have been, (it really sucks for those who have not experienced it). Well my mom was looking for a way to help with my allergies for years. So one day she just got so desperate she searched "Allergy Cure" (no beating around the bush there folks), and what do you know something pops up.

After awhile she decides to try it, about 1-2 weeks, so my sister and I get carted off to Sophia's. So for weeks we just kept going, and I was like, "I don't feel any different mom, at most I feel worse cause of the avoidance period," (now gone for all you folks just starting). I just kept on feeling the same till we got to doing trees, flowers, and histamine. At that point I wasn't sneezing quite as much, I could eat whatever I wanted, and I didn't have as much acid reflux (Stomach acid coming up my throat).

We started in mid April, 2009 and are still continuing at September 08 2010 (45 sessions) but I am finally feeling the results, and I can go and stick my nose in a cottonwood tree if I just so please!

That's my story, and as a continuing patient I hope to see yours too.

Thanks Sophya!

Edy

.................................................

I heard about Sophya from a co-worker. I had many allergies - food, environmental, and cat. My live revolved around what I could and couldn't eat, touch or where the nearest washroom was. I wouldn't touch my cats in the springtime or I would sneeze all day.

As I started treatments with Sophya I would try foods I haven't eaten in years. I was so surprised that I felt fine - No reaction !!!. I now have no problems with allergies. I can go out to restaurants, friends, and to travel. I no longer take any anti-histamines. My cats no longer bother me.

Thank you, Sophya.

.................................................

When I came to see Sophia for the first time, I didn't think I was going to meet someone who would have the ability to transform my health and my life, while also making me feel loved and cared for. Have you ever received this from a doctor? Sophia is not just the person God is using to help me heal, but also a true friend. She has the heart of a mother and embraces the people she treats with so much affection, that she makes you feel at home and safe.

I'm grateful to Carolyn, who encouraged me to visit Sophie one day. Her testimony of food allergies spoke to me directly. I couldn't believe it would be possible to eat the foods I hadn't eaten for years! When Carolyn told me she could eat everything now, that was it, I had to try it!

During my first visit with Sophia she told me that once I finished my basic treatments I would be able to eat eggs (and milk, and nuts, and wheat, and so on and so forth). That was all the encouragement I needed to set myself on a quest. I had to finish the basic treatments before Christmas! I wanted to be able to eat everything on the plate without having to say "no, I'm sorry, I can't eat that either". I was tired of feeling sick, and tired of being tired and low energy. My skin looked so bad, I was extremely underweight and although I was hungry, food was a fear rather than a joy.

At that time my parents were visiting from Mexico, so both my mom and I started our treatments together. My mom was in a hurry to claim her health back too! She did 2 treatments a day, for 2 consecutive weeks. She went home with a renewed life and a new energetic feeling.

Although I wasn't as fast as my mom, I literally ran through the first 15 treatments too. When Sophia said "go home and have an egg" I just wish I had had a recorder with me. I think I heard Angels sing! I drove home as fast as I could and although I had imagined that moment as being one surrounded by my family and lots of celebration, that day it was just me and, of course, my egg. It couldn't have been more perfect!

I grabbed the pan and cooked my first egg. It was actually "romantic".I looked at my egg...I cooked it with so much love. I ate it slowly, as if there was no tomorrow. Two hours later...no itchiness. No rash....24 hrs later. Still nothing. That day I was in heaven. 48 hours later...nothing!!! 4 months later...and lots and lots of more eggs, and everything is great!

But it wasn't only the eggs. For years I craved for a sandwich, and when I was finally able to eat it, I savoured it with every bit of my heart. Before that, my allergies were so bad that my face, neck and chest were covered by rashes for years.

The technique that Sophie uses is certainly "non-conventional", though acupuncture for example, is perfectly conventional in China, so we have to define non-conventional as something we are simply not familiar with. This gentle and side effect free technique has certainly become conventional in my life now. I cannot see any other way to treat just about any condition better than with NEAT.

But it's not just about NAET being so successful, it is about Sophia. I visited so many doctors before, and I never received what I do here. Sophia has been incredibly understanding, patient and caring to me. Going to Path to Wellness clinic always leaves me feeling stronger and refreshed. She makes you feel so good that I can guarantee you this is a type of treatment that you have never experienced before. The type of genuine love and care that you will receive while being treated by Sophie, will blow you off your feet.

Other than the food allergies (and skipping restaurants and friend's houses too), Sophie is also treating me for infertility and an auto-immune thyroid condition (Hashimoto's). I have to say that right from the beginning I noticed radical changes in both conditions.

I was also born with an Mitral Valve Prolapse and that is one of the reasons why my energy level one so bad. The first one was my level of energy. Can you believe that just sweeping the house would leave me exhausted to a point where I actually got dark circles under my eyes and was practically out of circulation until I could rest for a while or even take a nap? With my work routine, taking a nap was completely impossible, and so the only way I could actually go on with my day was by splitting it into parts. This meant taking breaks in between and not having more than 1 appointment per day.

After just 5 treatments with Sophia, I was able to sleep well throughout the night, wake up refreshed and go about my day non-stop without feeling sick or weak. Oh, exercising in the morning used to be an absolute "no" to me. Just a bit of exercise and I would be tired the rest of the day (tired close to fainting). Now, I can go for a long walk, go shopping, have a few appointments per day, clean the house, work at least 8 hours and still feel good. It really has been a miracle in my life.

I'm still working on different things and allergens, but just being able to eat good and healthy food again makes me want to dance!

Sophie, what can I tell you. You are like my Canadian mother. I'm beyond speechless by everything you've done for me. On my last treatment I happened to mention that I was hungry. It was just a comment, but you flew to your office and brought me bread, avocado, yogurt with cottage cheese, nuts and even an orange! You made my mother feel so great!, you have treated my little "Angel" and she can now run using all 4 legs, you have fed me with love and words of encouragement and affection. You motivate me, you support me, and you are beyond devoted to my health. I really am thankful to God for your life. I bless you, and I bless your practice and your family. May God grant you everything your heart desires. A million thanks from Jeff, Angel and me.

Much love, Karina


____________________________________________________

INFERTILIY & MISCARRIAGES



Hello Sophya:

Drake and I wanted to send you greetings with the arrival of our baby girl, Chloe. You were instrumental in our journey.

From the bottom of our hearts thank you for the emotional and physical healing and unabashed positivity with regards to my fertility.

Roni, Drake and Chloe.


____________________________________________________

FOOD ALLERGIES & FOOD SENSITIVITIES & FOOD ALLERGIES



As soon as my first child had colic for a year, then intermittent plugged ears, I began searching. I knew allergies must be lurking at the source and searched for help, but found few answers, not even from the naturopath and homeopath.

I began to get more allergies and hay fever myself; then I had a second child. In his first years he appeared healthy and strong, but by the age of about 7 his strength and energy level was noticeably lower. At age 9 he developed stomach acid reflux. The acid-reducing medication the doctors gave him made little long term health sense and we went to a naturopath and learned it was certain foods that irritated his stomach valve – so he had to avoid eating many common foods. Yet, his reflux kept returning, he got weaker and a new neck injury now wouldn't get better because his muscle's weren't firm enough.

By age 10, he could not play outside for many weeks in the spring and summer due to intense hay fever. In the 2009 heat wave we had no air conditioning and we had to keep all the windows closed to avoid the pollinated air. My son sat in our somewhat cooler basement for 8 weeks, as he had the year before. Playing video games and reading with me for company, he stayed somewhat sane. But how could he continue to live his life this way?

Suddenly, in answer to my question and many prayers, I found an 'allergy cure' called NAET on the internet – it actually sounded too good to be true. After searching and talking to many people for years, how could I not have heard of this treatment before? But as I kept researching, hope began to dawn. We found Sophya nearby, and went to see her.

On our first appointment, when I saw Sophya helping my son, I cried. As many parents can relate, it is very hard to watch your child suffer and even grow worse. Here finally was real hope and someone who really cared! Sophya showed me what was happening - my son was malnourished because of allergies to all of the basic food ingredients. So he worked his way to health from the bottom up, giving his body back what it needed to grow and thrive. Sophya helped him through virus attacks and odd sprouting symptoms, solving riddle after riddle with patience and love.

It's been about 20 months so far and my son has greatly improved in strength, stamina, mood swings, he can play outside, his legs don't hurt anymore, he can run, he gets less viruses, and he can eat everything again. Through it all, Sophya's skill, wisdom, and loving kindness has been a remedy for us both.

Of course when I realized what Sophya could do, I brought my daughter and myself for treatment too. Since then, my daughter does not get plugged ears anymore and rarely gets sick.

As for me, my health is much improved. Before, I had trouble getting things done and was tired and dizzy. These symptoms had grown on me slowly and since I had thyroid, peri-menopause, and post trauma as well as allergies, I couldn't tell when I had an allergy or what was what anymore. I had been struggling through a haze of foggy thinking, overwhelm and lethargy. In the spring, I could barely breathe or think straight with pollen in the air. I had tried many things with some success, but it in the end it was Sophya's treatments that got my health, energy and clarity back so I could be consistent in doing the other things that were good for me. I hadn't been able to do much more than cope day to day until then. It is such a relief!

So if you are wondering about this NAET 'energy medicine' stuff, well it is the most powerful healing

Linda

.................................................

I heard about Sophya from a co-worker. I had many allergies - food, environmental, and cat. My live revolved around what I could and couldn't eat, touch or where the nearest washroom was. I wouldn't touch my cats in the springtime or I would sneeze all day.

As I started treatments with Sophya I would try foods I haven't eaten in years. I was so surprised that I felt fine - No reaction !!!. I now have no problems with allergies. I can go out to restaurants, friends, and to travel. I no longer take any anti-histamines. My cats no longer bother me.

Thank you, Sophya.

.................................................

Hi Sophya,

I've been procrastinating about sending you this testimonial because I always think of these things as coming at the end of treatment and I feel that we still have so much that we would like to do with you. We really have come a long way from the first day we met though. I don't even really like to think about what life was like back when we were still searching for answers.

Aiton, of course is almost completely better with his eczema. His quality of life has been so greatly improved since the NAET treatments it is like he is a different baby. At his worst there were so many oozing scabs that I didn't feel comfortable taking him out in public. I can't imagine what life would be like if we still had to swaddle him all the time to keep him from scratching.

He is such a happy baby now; free to poke around and explore things just like a baby should! It is wonderful to see the change. I really don't know how we would have made it without the treatments. I didn't expect that Aiton's eczema would bring so much healing into my life. Sophya, without your help there is no doubt in my mind that I would not be breastfeeding right now and that is such a great thing.

Feeding Aiton is one of the most amazing things I have experienced in my life. Thank you so much for your help with the blocked milk duct and the low milk supply. I couldn't have done it without you. I know that I would have given up a long time ago.

It is a wonderful thing that you insisted on treating us together. After suffering most of my life with allergies it is a miracle to me to be able to start eating things that I've been avoiding for years. I really never thought it was possible. Of course I am not sure how healthy it is really since I can't seem to stop eating cookies now that wheat is not a problem! I have softer skin and more energy that ever. Ahhhh, no wonder I want to come back. We're looking forward to seeing you again soon.

Thank you so much for everything.

Love, Heather xo

.................................................

Dearest Sophia,

I am deeply thankful to God and to you. Since I have not enough words to express how great I feel, I will try to share with you some of the changes I've seen after finishing my basic treatment. I was very impressed that after just one session (for fear), my nose was completely open and I can now breath normally and without doing it through my mouth. You cannot imagine how wonderful I'm sleeping now! Not only am I able to live a normal life, a life that I can't remember having for decades! I'm full of energy, I don't snore anymore and with your allergy treatments, I can happily say that I am now eating everything!

How can I thank you enough? God bless you so much Sophia! I pray that He send many, many more people that haven't found answers for their health problems, to you. For over 15 years I had been trying to find solutions for my throat and nose problems, and for the inflammation I had. During that time I saw many good doctors (all very "popular"), from naturists, to specialists, dozens of them, with not a single result. Natural medicine helped me eat better and feel better, but didn't correct my problem either. I even had a camera through my nose and was suggested surgery a few times. I was hopeless and exhausted and had spent so much money looking for answers. And just when I was wondering "until when?" - my husband and I came to Canada to visit my daughter and her husband, and the rest is history.

You are the most important part of it. Sophia, you have become like a member of my family to us. Your smile, your enthusiasm and encouragement has made a huge difference in my life. Thank you for all your advice and for truly caring from your heart. I will always remember you and when we come visit Canada, We'll certainly like to see you again. I haven't made my garden yet (ops!), but I promise to start gardening and eat more organic!

God bless you, and Carolyn that referred us to you, and God bless my daughter who decided to take me to you.

From the bottom of my heart, Thank you!

Hugs and Kisses from Mexico,

Flor Alicia Flores

.................................................

My son has always struggled with food allergies and is a very picky eater so it became impossible for him to avoid foods that caused him trouble. He didn't eat very well, was tired all the time, couldn't focus in school and was very moody. It seemed like everything was a battle with him. He started to isolate himself more and didn't even want to go out with friends.

Last spring I took my 14 year old son to see Sophya Itskovich (NAET Practitioner) as a last effort to help him with his varied symptoms. Sophya immediately had a connection with Brady and had an ability to make him feel better about himself during the sessions. I didn't notice many changes right away. Near the end of having the basics cleared I noticed he was a lot calmer at home. He was still a bit moody but it was more typical teenager mood swings.

After basics were completed and he began getting cleared for other items I noticed even more changes. He started trying new things to eat and he now eats better. His ability to concentrate at school improved and his relationships with his teachers grew as well. It has now been 8 months (29 sessions) since we have been seeing Sophya. We are approaching the end of his treatments and he is in many ways a very different person than he was when we started. The biggest change I have seen in him is his increasing self-esteem. He isn't isolating himself any longer and is actually enjoying some physical activity. This semester in school he is doing really well and is taking pride in his work. I am grateful to my friend for recommending Sophya to me as she has helped Brady in so many different ways.

Darcee C.

.................................................

Sophya has changed my life and my son's life dramatically, and continues to change my husband's life too! Every moment of gratitude in my life holds Sophya in it, as she has given us a quality of life that we had not even known possible before.

I had been suffering with allergies my whole life (which turned debilitating in 2008), and when my son was born, he was ridden with allergies even more severe it seemed. I desperately tried every type of natural doctor and healer along with homeopathic, herbs, and supplements to help him throughout his daily life. Luckily, my background in alternative medicine allowed me to keep us on a clean, healthy diet and notice any symptoms early and treat them as best I could. As my immune system weakened over the past few years despite my diet and supplementation, I was susceptible to every illness that seemed to cross my path...and being a preschool teacher, this was a challenge!

My son appeared to get somewhat better with a number of the doctors we've met along the way, so a handful of his major symptoms were dissipating (ie. severe teeth grinding, nose bleeds, coughing nightly, etc.). Unfortunately, we still had many obstacles on his path.

I cried the first and second time I sat in Sophya's office as I watched her speak with my son. I felt like I had finally come to the end of my many years of searching endlessly for someone to heal him...and myself. Of course, being a mother, I was much less worried about myself than him. Sophya had me realize that we both needed to be treated together, and I'm forever grateful she did. I am now in my 40's and my immunity and body is getting stronger and healthier than it has ever been.

My son gets to grow up living the life he wants, not debilitated with a lifetime of allergies and a non-functional immune system. Our family appreciates Sophya more than words can express.

Much love,

Lauren, Rick, and Kyro

.................................................

Ever been stuck in a basement for 7 weeks of summer, or worse? Unfortunately I have been, (it really sucks for those who have not experienced it). Well my mom was looking for a way to help with my allergies for years. So one day she just got so desperate she searched "Allergy Cure" (no beating around the bush there folks), and what do you know something pops up.

After awhile she decides to try it, about 1-2 weeks, so my sister and I get carted off to Sophia's. So for weeks we just kept going, and I was like, "I don't feel any different mom, at most I feel worse cause of the avoidance period," (now gone for all you folks just starting). I just kept on feeling the same till we got to doing trees, flowers, and histamine. At that point I wasn't sneezing quite as much, I could eat whatever I wanted, and I didn't have as much acid reflux (Stomach acid coming up my throat).

We started in mid April, 2009 and are still continuing at September 08 2010 (45 sessions) but I am finally feeling the results, and I can go and stick my nose in a cottonwood tree if I just so please!

That's my story, and as a continuing patient I hope to see yours too.

Thanks Sophya!

Edy

.................................................

Dearest Sophya,

When I was referred to you, I felt like I was dying with no hope. It was a struggle to get through each day, I was so sick. You saved my life.


Now I can eat everything!!! We can eat out at restaurants and I can enjoy life again with my family.

You have helped Chloe, my daughter, too. She had rashes since she was born. Now at 3 years old she can eat everything without a reaction, and she doesn't catch illnesses like she used to!

Sophya, you have been so strong for myself and my family, and have gone above and beyond for us. I know that I can call you anytime if we need help, be it a cold to a NAET treatment. Your guidance, patience, non-judgemental attitude, words of wisdom, and most of all love has meant more to us than you will ever know. You will always be our family doctor, for as long as you will have us. We happily refer you to anyone that may need your help, and the help of NAET.

Bless you Sophya. Lots of Love,

Carolyn, Hank, and Chloe

.................................................

I have been seeing Sophya faithfully for 6 months now, and have experienced major physical and spiritual transformation under her care. I suffer from bipolar disorder with psychosis and in conjunction with medical treatment, have been able to manage my illness with Sophya's help. I also suffered from absolute severe food allergies where the majority of foods that I ate was not sufficiently absorbed by my body, leaving me weak and sick despite my best efforts to eat healthy. This led me to have a chemical brain imbalance and bipolar mania episodes leading to mental and emotional instability.

Within a few treatments, I was noticing a difference in my health. I have since then received several treatments from Sophya, and this has helped me to manage my illness, emotions, and energy flow. All of her treatments have been in alignment with my body, as Sophya's treatments always require permission of the spirit, and all have come together (including acupuncture) to help me to become healthier and happier, and more alive with more energy.

Sophya is always so happy, bubbly, loving and inspiring – she inspires me to be stronger each time and to remember to live my life to the fullest. The opportunity to work with Sophya and to receive her NAET treatments has been a blessing and she has changed my life. I am grateful for all her help, and for the referral to her.

.................................................

As soon as my first child had colic for a year, then intermittent plugged ears, I began searching. I knew allergies must be lurking at the source and searched for help, but found few answers, not even from the naturopath and homeopath.

I began to get more allergies and hay fever myself; then I had a second child. In his first years he appeared healthy and strong, but by the age of about 7 his strength and energy level was noticeably lower. At age 9 he developed stomach acid reflux. The acid-reducing medication the doctors gave him made little long term health sense and we went to a naturopath and learned it was certain foods that irritated his stomach valve – so he had to avoid eating many common foods. Yet, his reflux kept returning, he got weaker and a new neck injury now wouldn't get better because his muscle's weren't firm enough.

By age 10, he could not play outside for many weeks in the spring and summer due to intense hay fever. In the 2009 heat wave we had no air conditioning and we had to keep all the windows closed to avoid the pollinated air. My son sat in our somewhat cooler basement for 8 weeks, as he had the year before. Playing video games and reading with me for company, he stayed somewhat sane. But how could he continue to live his life this way?

Suddenly, in answer to my question and many prayers, I found an 'allergy cure' called NAET on the internet – it actually sounded too good to be true. After searching and talking to many people for years, how could I not have heard of this treatment before? But as I kept researching, hope began to dawn. We found Sophya nearby, and went to see her.

On our first appointment, when I saw Sophya helping my son, I cried. As many parents can relate, it is very hard to watch your child suffer and even grow worse. Here finally was real hope and someone who really cared! Sophya showed me what was happening - my son was malnourished because of allergies to all of the basic food ingredients. So he worked his way to health from the bottom up, giving his body back what it needed to grow and thrive. Sophya helped him through virus attacks and odd sprouting symptoms, solving riddle after riddle with patience and love.

It's been about 20 months so far and my son has greatly improved in strength, stamina, mood swings, he can play outside, his legs don't hurt anymore, he can run, he gets less viruses, and he can eat everything again. Through it all, Sophya's skill, wisdom, and loving kindness has been a remedy for us both.

Of course when I realized what Sophya could do, I brought my daughter and myself for treatment too. Since then, my daughter does not get plugged ears anymore and rarely gets sick.

As for me, my health is much improved. Before, I had trouble getting things done and was tired and dizzy. These symptoms had grown on me slowly and since I had thyroid, peri-menopause, and post trauma as well as allergies, I couldn't tell when I had an allergy or what was what anymore. I had been struggling through a haze of foggy thinking, overwhelm and lethargy. In the spring, I could barely breathe or think straight with pollen in the air. I had tried many things with some success, but it in the end it was Sophya's treatments that got my health, energy and clarity back so I could be consistent in doing the other things that were good for me. I hadn't been able to do much more than cope day to day until then. It is such a relief!

So if you are wondering about this NAET 'energy medicine' stuff, well it is the most powerful healing

Linda

.................................................

This is my testimonial for my Doctor and healer Sophya. I am a 37 year male. Sophya has been the one and only medical practitioner I have seen in thelast 2 and a halfyears. She is the only Doctor that can solve my problems.

Sophya's care for me, as a patient, has been very comforting and above and beyond any Medical Doctor could provide.

Within the last 2 and a half years I have suffered from various sports injuries, work related injuries, digestive problems as well as emotional problems.

No matter what problem I may be suffering from, I know that Sophya is only a phone call away from making me better.

I suffered from a rotator cuff injury, caused at work, for seven years. The area would become so knotted up whenever it was aggravated. The muscle spasm would grow from the rotator uff to my back and shoulder. The pain in my shoulder would last for weeks. Sophya worked on my shoulder with acupunctureand within two treatments I had no pain. The shoulder has been problem free for the last 2 and a half years.

I also suffered from a tender achilles heal. It was so bad that I thought I would tear the tendon during physical activity. Sophya also fixed this problem in two treatments. Five years of pain fixed in two sessions.

On two occasions I fell ill to food poisoning and she helped to make me feel better after one visit.

Sophya has been able to sytematically rid my body of allergies. These are allergies that I knew I had as well as allergies that I had no idea had or attained over my years of life.

Through her intuition she helped to solve a digestive problem. She came to the conclusion that my problem was caused by an emotional issue. Stress was making me sick and I had no idea. She treated me for this particular stress matter and I felt much better.

She has done so much more, for me and my family, than any doctor can ever hope to achieve.

Her intuitiveness and genuine care makes her an unbelievable Doctor and healer.

She will be the one and only doctor for me and my family for as long as I know her, and I hope that will be a long time.

Love Hank

.................................................

Thank you Sophya for your NAET treatments. You have helped me very much. I enjoy all food I am now able to eat cause of you.

Thank you so much for making me healthy and strong, and allowing me to eat new food and resist allergies.

Kyro.

.................................................

Dear Sophya,

My family and I want to thank you so much for taking the extra time out of your busy schedule to help Boston became a " normal , healthy little boy! Thank you so much for being you!!

Sincerely, Jolene (Saskatchewan)

.................................................

When I came to see Sophia for the first time, I didn't think I was going to meet someone who would have the ability to transform my health and my life, while also making me feel loved and cared for. Have you ever received this from a doctor? Sophia is not just the person God is using to help me heal, but also a true friend. She has the heart of a mother and embraces the people she treats with so much affection, that she makes you feel at home and safe.

I'm grateful to Carolyn, who encouraged me to visit Sophie one day. Her testimony of food allergies spoke to me directly. I couldn't believe it would be possible to eat the foods I hadn't eaten for years! When Carolyn told me she could eat everything now, that was it, I had to try it!

During my first visit with Sophia she told me that once I finished my basic treatments I would be able to eat eggs (and milk, and nuts, and wheat, and so on and so forth). That was all the encouragement I needed to set myself on a quest. I had to finish the basic treatments before Christmas! I wanted to be able to eat everything on the plate without having to say "no, I'm sorry, I can't eat that either". I was tired of feeling sick, and tired of being tired and low energy. My skin looked so bad, I was extremely underweight and although I was hungry, food was a fear rather than a joy.

At that time my parents were visiting from Mexico, so both my mom and I started our treatments together. My mom was in a hurry to claim her health back too! She did 2 treatments a day, for 2 consecutive weeks. She went home with a renewed life and a new energetic feeling.

Although I wasn't as fast as my mom, I literally ran through the first 15 treatments too. When Sophia said "go home and have an egg" I just wish I had had a recorder with me. I think I heard Angels sing! I drove home as fast as I could and although I had imagined that moment as being one surrounded by my family and lots of celebration, that day it was just me and, of course, my egg. It couldn't have been more perfect!

I grabbed the pan and cooked my first egg. It was actually "romantic".I looked at my egg...I cooked it with so much love. I ate it slowly, as if there was no tomorrow. Two hours later...no itchiness. No rash....24 hrs later. Still nothing. That day I was in heaven. 48 hours later...nothing!!! 4 months later...and lots and lots of more eggs, and everything is great!

But it wasn't only the eggs. For years I craved for a sandwich, and when I was finally able to eat it, I savoured it with every bit of my heart. Before that, my allergies were so bad that my face, neck and chest were covered by rashes for years.

The technique that Sophie uses is certainly "non-conventional", though acupuncture for example, is perfectly conventional in China, so we have to define non-conventional as something we are simply not familiar with. This gentle and side effect free technique has certainly become conventional in my life now. I cannot see any other way to treat just about any condition better than with NEAT.

But it's not just about NAET being so successful, it is about Sophia. I visited so many doctors before, and I never received what I do here. Sophia has been incredibly understanding, patient and caring to me. Going to Path to Wellness clinic always leaves me feeling stronger and refreshed. She makes you feel so good that I can guarantee you this is a type of treatment that you have never experienced before. The type of genuine love and care that you will receive while being treated by Sophie, will blow you off your feet.

Other than the food allergies (and skipping restaurants and friend's houses too), Sophie is also treating me for infertility and an auto-immune thyroid condition (Hashimoto's). I have to say that right from the beginning I noticed radical changes in both conditions.

I was also born with an Mitral Valve Prolapse and that is one of the reasons why my energy level one so bad. The first one was my level of energy. Can you believe that just sweeping the house would leave me exhausted to a point where I actually got dark circles under my eyes and was practically out of circulation until I could rest for a while or even take a nap? With my work routine, taking a nap was completely impossible, and so the only way I could actually go on with my day was by splitting it into parts. This meant taking breaks in between and not having more than 1 appointment per day.

After just 5 treatments with Sophia, I was able to sleep well throughout the night, wake up refreshed and go about my day non-stop without feeling sick or weak. Oh, exercising in the morning used to be an absolute "no" to me. Just a bit of exercise and I would be tired the rest of the day (tired close to fainting). Now, I can go for a long walk, go shopping, have a few appointments per day, clean the house, work at least 8 hours and still feel good. It really has been a miracle in my life.

I'm still working on different things and allergens, but just being able to eat good and healthy food again makes me want to dance!

Sophie, what can I tell you. You are like my Canadian mother. I'm beyond speechless by everything you've done for me. On my last treatment I happened to mention that I was hungry. It was just a comment, but you flew to your office and brought me bread, avocado, yogurt with cottage cheese, nuts and even an orange! You made my mother feel so great!, you have treated my little "Angel" and she can now run using all 4 legs, you have fed me with love and words of encouragement and affection. You motivate me, you support me, and you are beyond devoted to my health. I really am thankful to God for your life. I bless you, and I bless your practice and your family. May God grant you everything your heart desires. A million thanks from Jeff, Angel and me.

Much love, Karina


____________________________________________________

FOOD POISONING



This is my testimonial for my Doctor and healer Sophya. I am a 37 year male. Sophya has been the one and only medical practitioner I have seen in thelast 2 and a halfyears. She is the only Doctor that can solve my problems.

Sophya's care for me, as a patient, has been very comforting and above and beyond any Medical Doctor could provide.

Within the last 2 and a half years I have suffered from various sports injuries, work related injuries, digestive problems as well as emotional problems.

No matter what problem I may be suffering from, I know that Sophya is only a phone call away from making me better.

I suffered from a rotator cuff injury, caused at work, for seven years. The area would become so knotted up whenever it was aggravated. The muscle spasm would grow from the rotator uff to my back and shoulder. The pain in my shoulder would last for weeks. Sophya worked on my shoulder with acupunctureand within two treatments I had no pain. The shoulder has been problem free for the last 2 and a half years.

I also suffered from a tender achilles heal. It was so bad that I thought I would tear the tendon during physical activity. Sophya also fixed this problem in two treatments. Five years of pain fixed in two sessions.

On two occasions I fell ill to food poisoning and she helped to make me feel better after one visit.

Sophya has been able to sytematically rid my body of allergies. These are allergies that I knew I had as well as allergies that I had no idea had or attained over my years of life.

Through her intuition she helped to solve a digestive problem. She came to the conclusion that my problem was caused by an emotional issue. Stress was making me sick and I had no idea. She treated me for this particular stress matter and I felt much better.

She has done so much more, for me and my family, than any doctor can ever hope to achieve.

Her intuitiveness and genuine care makes her an unbelievable Doctor and healer.

She will be the one and only doctor for me and my family for as long as I know her, and I hope that will be a long time.

Love Hank
____________________________________________________

HEADACHE & MIGRAINE

Hello Sophya,

I have returned from my holidays and wanted to send you a "Thank You" note for all that you have done for me. I first heard about you from my boss as I had been complaining about headaches, bad ones, and they were everyday. She had recommended you as she knew of another friend that was seeing you and had nothing but good things to say about you, so I thought that I would give it a try. Well 2 months of seeing you twice a week for Acupuncture and Herbal Medicine, I feel like a new woman. I had also seen you for a few other issues and I am still working on that with the Herbal Medicine and am feeling pretty good. Keep up the great work and if I know of people in need of Acupuncturist or any Traditional Chinese Medicine I will be sending them your way.

Once again "Thank You" for all that you have done.

Regards

Erika


____________________________________________________

GASTROINTESTINAL DISORDER



Dear Dr. Sophya,

Now time has arrived that I should express my gratitude from the bottom of my heart. To tell you the truth, I do not have enough words to express these feelings. I still remember the time period when I lost my hope towards my life due to my undiagnosed gastrointestinal problem. I can say that you have given me a second birth. Your kind and helpful nature with your detailed knowledge of NAET and Acupuncture has brought the desired result in short time.

I would like to share my miserable journey which is now entering in to beautiful life with full of happiness.
It started in April – May 2010 when I moved from Brampton, Ontario to Delta, BC. Initially I started to get a burning feeling in my chest after eating my food. I thought it was the effect of alcohol. So I stopped drinking alcohol. I felt better at one point but after a while the same burning feeling came back. I am a pharmacist by profession and I started to avoid most common risk factor such as spicy food, oily food, etc. But it didn't help me for long. I started taking OTC (Over The Counter) medicines for acidity which were ineffective on a long run. Finally I started to approach a physician. I was on PPI (Proton Pump Inhibitor) with no benefits. I moved to Williams Lake from Delta in 2011 and my symptoms were increasing day by day with the most common food I was eating on daily basis. I was frustrated with the same recommendation from different doctors and normal results of most of the diagnostic test such as endoscopy, ultrasound and H.Pylori. Finally I approached Gastroenterologist and due to normal result of all diagnostic tests, I didn't get much help with my situation.

I tried alternative treatment with not many benefits. Finally i reached to a stage where I could only eat eggs and chicken and some fruits and vegetables. I lost about 25 pounds in 1 and a half years due to lack of nutrition. I lost interest in my life. Finally, with the blessing of GOD and my father, I came to know the NAET treatment and I called Sophia. When I met Sophya for the first time, I was so impressed with her kind nature but also skeptical about this treatment due to my knowledge in the medical field. But she is suggested to continue treatment. I used to visit her from Williams Lake, which was a 6 hour drive, just for one treatment because she was giving me so much positive energy. I also had skin problem from many years which is completely cured with NAET treatment and her right treatment protocol.

I am feeling much better now and my life is full of joy and happiness. Thanks to Dr. Namudripad for such an amazing invention and doctor Sophia for her extensive knowledge to apply the right treatment at the right time. I would like to say one thing about this treatment for all the people who enter this clinic, please do not give up and be patient because this is the Best Chance…….

Nayan Sharma (B. Pharm)

................................................. What can I say, you are my angel Sophya. I am so grateful to have met you, and to have been treated by you for severe depression and GI disorder. You have brought me back to life, for which I will be forever grateful.

Ronda

.................................................

When I began to see you in the spring of 2011, I didn't have any idea that you would be able to help me as I had come to see you for my daughter. Thank you for encouraging me to be treated along with Arielle as it has changed my life. I had allergies my whole life and I have had to deal with many discomforts because of them. When I developed Cystitis (bladder), and Vulva Vestibulitis I was at my wits end. The daily pain and discomfort was disabling so I decided to go on medication for the pain. No one knew how to help me.

It is now early 2013, I have been off medication, thanks to you since March 2012. I am so grateful to be medication free. I can now enjoy my life daily without worrying about what I am going to wear or how I am going to sit down or whether I will be able to exercise.

Also, I now do not have daily stomach aches, bloating and nausea. It is such a relief. I look forward to working with you this year to tweak for the remainder of the things that flare up my body. Being 80%-90% better gives me the assurance that I will be 100% very soon.

I wish more people knew about you and this NAET method of treatment.

You are a treasure!
Thank you!!!
All my love,
Tracy Heart



____________________________________________________

HORMONAL IMBALANCES



Dear Sophya:

I am so thankful to have met you and had treatments from you. Since having treatments, my period is night and day. Before it was very painful, extreme mood swings, and sometimes i would gain up to 10 pounds in water weight. Now, sometimes i don't even know it has started! I can eat wheat now, Halleluha!

I've had eczema on my feet for 17 years which now is 75% cleared up.

I can't wait to see what more treatments will bring for me.

Thank you, Sophya!

Connie

.................................................

I have been meaning to write you a thank you letter for so long and finally I felt moved to do so today.

I have been coming to see you for almost two years now and there have been so many things I wanted to thank you for.

When I first came, I was having numbness & pain in my left leg, which was originating in my lower back. I have had that pain and numbness for 10 years, and within weeks, you helped relieve me of the pain. I know that my posture and back care will need ongoing attention, but I am truly grateful for the care and work you did to make me walk without pain.

From that point on you helped me to look at and focus on my hormone problem that originates from my polycystic ovarian disease. I was so disconnected from my body, and through your care and expertise I have begun my journey to having a healthier body and more regulated hormones.

Thank you again for all your expertise, knowledge and education. I was truly lucky to have met you.

Sincerely Yours,

Bonnie

.................................................

For the past 25 years I have taken personal responsibility to find alternative ways of successfully dealing with the health matters of my family. When I heard about NAET I was both excited and intrigued. I couldn't wait to meet Sophya to find out more and begin treatments!

I wouldn't describe myself and my husband as typical clients of Sophya. I have just turned 60 and my husband is 67. Neither of us take any prescription drugs and we are both in excellent health. Rather than specific health issues, I have a list of annoyances that I would like to fix.

I have to tell you that NAET treatments have made me feel 15 years younger. It has now been over 4 years since I started my treatments. Shortly after being treated all my symptoms disappeared and I am very happy to confirm that four years later, they are still gone.

I believe that Sophya with her medical skills and NAET has a very special talent that can help anyone with any health concern. I would not hesitate in recommending her to anyone.

S. M.


____________________________________________________

INSOMNIA



I have been coming to Sophya for about 7 months now with my 2 year old son. It has really helped both of us a great deal. I have a heart condition and consequently feel tired most of the time. Before I met Sophya, I had been told I would never improve more than what I was and had lost all hope. I thought why not try holistic medicine; what do I have to lose?

About a month of seeing Sophya, my energy was much better and I feeling really optimistic. About four months after seeing Sophya, I ran up a flight of stairs for the first time in about 4 years! I did it unconsciously, but when I reached the top and realized what I had done I cried with joy. I never thought I would be able to do that again even though it is such a simple thing. I also used to retain so much water that I would have to take water pills about 3-6 times a week. If I retain too much water it can lead to me going into heart failure, so this is a really big deal for me. Well after about 7 months of going to see Sophya I only take about 1 a week and sometimes I take none a week. That makes me really happy.

My son suffered from eczema all over his little hands and was pretty much an insomniac for the first two years of his life. After Sophya told us what foods he was sensitive to, eliminating them from his diet and with her working with him, his little hands are finally smooth like they should be. They used to always be all bloody and hurt him so much, so Sophya has really helped my son. He also only wakes up once a night now compared to about 7 times a night, so we are all much happier.

In conclusion, I am very happy to have been and still be a patient at Sophya's clinic. She has helped my son and I a great deal, and I can honestly say I feel like a different person than I did 7 months ago.

Thanks Sophya.

Sincerely: Vieira


____________________________________________________

LOW IMMUNITY



Sophya has changed my life and my son's life dramatically, and continues to change my husband's life too! Every moment of gratitude in my life holds Sophya in it, as she has given us a quality of life that we had not even known possible before.

I had been suffering with allergies my whole life (which turned debilitating in 2008), and when my son was born, he was ridden with allergies even more severe it seemed. I desperately tried every type of natural doctor and healer along with homeopathic, herbs, and supplements to help him throughout his daily life. Luckily, my background in alternative medicine allowed me to keep us on a clean, healthy diet and notice any symptoms early and treat them as best I could. As my immune system weakened over the past few years despite my diet and supplementation, I was susceptible to every illness that seemed to cross my path...and being a preschool teacher, this was a challenge!

My son appeared to get somewhat better with a number of the doctors we've met along the way, so a handful of his major symptoms were dissipating (ie. severe teeth grinding, nose bleeds, coughing nightly, etc.). Unfortunately, we still had many obstacles on his path.

I cried the first and second time I sat in Sophya's office as I watched her speak with my son. I felt like I had finally come to the end of my many years of searching endlessly for someone to heal him...and myself. Of course, being a mother, I was much less worried about myself than him. Sophya had me realize that we both needed to be treated together, and I'm forever grateful she did. I am now in my 40's and my immunity and body is getting stronger and healthier than it has ever been.

My son gets to grow up living the life he wants, not debilitated with a lifetime of allergies and a non-functional immune system. Our family appreciates Sophya more than words can express.

Much love,

Lauren, Rick, and Kyro

.................................................

Before NAET treatment, I felt sick all the time, sleepy, and couldn't think properly. I would have trouble waking up, focusing in school, and doing any outdoor activities. Not only did I look unhealthy, I actually was. I wouldn't eat fruit, vegetables, meats, only grains and fast food.

After treatment, I could think very clearly, wake up easily, and I actually tried foods before I wouldn't consider eating. School is much easier now, and I'm in better health.

What I like about Sophya is her willingness to help, and how easy she makes it to get better

Brady C.


____________________________________________________

MEDICATION AND DRUG ALLERGIES



I used to take pills. Pills for anxiety, worry and stress, then pills for the pills' side effects, pills for those pills' side effects, until I had a pill collection worthy of any eighty year old and I am only 23. I had pill boxes for morning, afternoon, and evening. The worst was when I would forget to take my pills, and end up worse than I had been before the sadness, anxiety, worry and stress took over my life.

I went to Sophya , not quite believing but willing to try anything that did not involve pills. I had allergies too, but compared to the depression and anxiety, they weren't my main concern.

I started the allergy elimination treatments, and slowly began to feel better. I could eat things again. I could stop worrying about food and nature affecting my life.

I also forgot to take my pills. I panicked that one day, realizing I had two weeks' worth of pill boxes full.

I stopped, recalling the okay sleep, the average stress level, the good feelings of the past two weeks. No side effects, no withdrawal. Somehow, I had from being depressed and anxious to okay, perhaps even happy. The happy had snuck up on me with Sophya's treatments, despite my disbelief.

I don't take pills anymore.

Thank you Sophya.

Anita


____________________________________________________

ANIMAL ALLERGIES & PET ALLERGIES



I heard about Sophya from a co-worker. I had many allergies - food, environmental, and cat. My live revolved around what I could and couldn't eat, touch or where the nearest washroom was. I wouldn't touch my cats in the springtime or I would sneeze all day.

As I started treatments with Sophya I would try foods I haven't eaten in years. I was so surprised that I felt fine - No reaction !!!. I now have no problems with allergies. I can go out to restaurants, friends, and to travel. I no longer take any anti-histamines. My cats no longer bother me.

Thank you, Sophya.


____________________________________________________

PET & ANIMAL TREATMENTS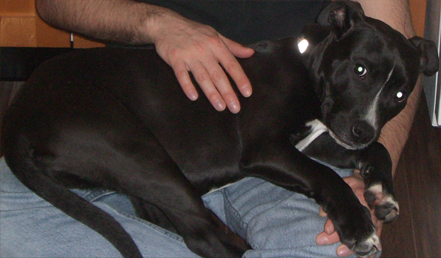 My name is Angel. I am only 6 months old. They say that in human years I'm already over 10 years. Woooof! I'm sooo old! But my new mommy calls me Baby Angel, so I guess I'm not that old.

I don't remember much about the past, it all seems like it was just a bad nightmare. One day they took me away from the place I used to live at and I woke up inside a kennel, at a place called "SPCA". They had other buddies like me there. We were all confused and lonely. But soon enough, I saw a lady walking down the aisle, and I thought to myself "I want to love her!". The people there told her that I needed a place to stay. I was very scared. The last place I had been at was very horrible. I was always cold and hungry, and as much as I tried to be good, I could never avoid being hit. I'm still a little bit scared of some people, but I'm getting so much better. I'm so happy about that!
The lady that came to see me put me in a car, and spoke to me softly, but I was too scared to understand that she didn't mean to hurt me. Then, she gave me a bowl with food! Woof! I was soo happy!
My stomach was growling, she must have heard it! And guess what? I was also given a very warm and soft blanket, and I now sleep by the fireplace. My best favourite place in the whole world!
I was feeling so much better now! Then the lady said she wanted to be my mommy! Woof! Woooof!!! I started to feel so much love inside me, I wanted to kiss everybody!.... well, I still do.
I even love my vet, although I was scared about him at the beginning, when he said that one of my legs needed to be cut. I didn't understand why! My mommy was so upset too! Then, she thought about someone who has been sooo, sooo nice to her. Her name is Sophia.
Mommy told me she was going to take me for a ride with her, and we went to visit Sophie at her clinic. Wooof! I was soooo happy when Sophie told me that she wasn't going to hurt me and that she loved me so much! Then I heard her say that she wanted to treat me for free. I was so happy because I only had my chew toys with me. Woof!
I love Sophie so much that I would give her my tennis ball! Sophie gave me some pills and then treated me for different things. She said that my leg didn't need to be cut! Woof, what a relief! The vet had said that my condition was getting worse, but after seeing Sophie, my x rays turned out perfect! I was so happy!
When he said that I would still have a limp I didn't care because I still got to keep my leg! But guess what? With Sophie's treatments I don't have a limp either! And better yet, I can run! I run so fast like the wind! I run so fast that I can go for my ball and then bring it back to my mommy and my daddy. I love them so much! And I love Sophie so much too because she saved my leg and helped me run.
Sophie said that I needed to eat better too, because I had something called "malnourishment". I used to weigh only 11 pounds, but now I'm over 40! My ribs and bones are not showing anymore, so everybody is happy about that. And I'm also so happy about that... so so happy that I want to run up and down the stairs again! I'm going to go get my ball!!
Thank you Sophie!! I love you so much! You saved my leg and helped me run again! (lick lick lick).



____________________________________________________

RESPIRATORY & BREATHING



Dearest Sophia,

I am deeply thankful to God and to you. Since I have not enough words to express how great I feel, I will try to share with you some of the changes I've seen after finishing my basic treatment. I was very impressed that after just one session (for fear), my nose was completely open and I can now breath normally and without doing it through my mouth. You cannot imagine how wonderful I'm sleeping now! Not only am I able to live a normal life, a life that I can't remember having for decades! I'm full of energy, I don't snore anymore and with your allergy treatments, I can happily say that I am now eating everything!

How can I thank you enough? God bless you so much Sophia! I pray that He send many, many more people that haven't found answers for their health problems, to you. For over 15 years I had been trying to find solutions for my throat and nose problems, and for the inflammation I had. During that time I saw many good doctors (all very "popular"), from naturists, to specialists, dozens of them, with not a single result. Natural medicine helped me eat better and feel better, but didn't correct my problem either. I even had a camera through my nose and was suggested surgery a few times. I was hopeless and exhausted and had spent so much money looking for answers. And just when I was wondering "until when?" - my husband and I came to Canada to visit my daughter and her husband, and the rest is history.

You are the most important part of it. Sophia, you have become like a member of my family to us. Your smile, your enthusiasm and encouragement has made a huge difference in my life. Thank you for all your advice and for truly caring from your heart. I will always remember you and when we come visit Canada, We'll certainly like to see you again. I haven't made my garden yet (ops!), but I promise to start gardening and eat more organic!

God bless you, and Carolyn that referred us to you, and God bless my daughter who decided to take me to you.

From the bottom of my heart, Thank you!

Hugs and Kisses from Mexico,

Flor Alicia Flores

.................................................

It is important to start out by saying that I am a 65 year old male, very physically fit and in excellent health. I have always been a top athlete and worked hard at being healthy. I am very interested in continuing to be as healthy as I can for as long as I can. But sometimes Western medicine is not enough and more and more I find myself looking at alternatives.

Last year in April (2008) I heard about NAET as a means of treating allergies and a local practitioner named Sophya Itskovich. I decided that I wanted to explore NAET treatments to see what they could do for my congestion.

Before moving to the Vancouver/Whistler area over 30 years ago, I never suffered from allergies. Shortly, after arriving in the spring of 1973 I experienced severe congestion. The local doctor diagnosed it as allergies to pollen and when I asked what I could do to fix it, he said "take antihistamines". Since that time I have dreaded the spring and summer seasons.

My experience with Sophya has taught me that allergies are very complex. To truly get rid of all allergies that cause congestion requires different types of treatments.To alleviate my allergies I took NAET treatments for:Pollen ? of all types, including pollen collected from my yard; Perfumes ? to alleviate any allergies caused by flowers, scented bushes, Trees, Grasses, Fungus, Moulds, etc.

A year later I can report that my congestion is still gone and 2009 has recorded the highest pollen levels in many years. For indoor congestion I have taken one treatment for cat dander (using fur from my two cats). Same result ? no congestion when I pat my cats. I have also taken treatments for dust (using dust from our vacuum cleaner). Again, same result, elimination of congestion.

Needless to say, I am a much happier and even healthier person. I owe it all to Sophya who I would strongly recommend to anyone! I will always be puzzled by why and how NAET works but it does work and it is worth every cent that you spend on it. Here?s to good health!

Yours truly,

Garry


____________________________________________________

SEIZURE & EPILEPSY



My daughter Laura and I have been seeing Sophya for NAET treatments for about a year now. When we started, Laura had just been diagnosed with a seizure disorder. The doctor was very clear that the type of epilepsy Laura had was not something she would grow out of…she would have it for life.

She was upset and angry about having to take anti-seizure medication. She was also living in fear of having another seizure. She had been told by the doctor to make sure she was getting enough sleep, to eat regularly and well and not to indulge in party behaviour such as experimenting with alcohol…pretty tall order for a previously carefree, exuberant, free spirit of a girl. She had the spirit knocked out of her, decided she never wanted to drive, lost her usual positive attitude about many things.

I'm happy to say I have my free spirited daughter back again. She has been off the anti-seizure medication for over 9 months. It wasn't something I condoned at the time, but I have to think Laura knew better than anyone she just didn't need them anymore. She is working 2 jobs, often 6 days a week, as well as having a very full social calendar. No, she often doesn't get enough sleep, misses meals more than I would like, but she is having a great time doing what teenagers do best…go, go, go. She went for her learner's permit last fall, expects to have her driver's licence this summer. Her latest plans are to buy a truck, to take her mom to Las Vegas for her 21st birthday! She's happy, confident, looking forward to the future without any fear or worries about seizures.

Thank you, Sophya!